The ability to customize is one of the most crucial implements in an interior designer's toolbox. Great care goes into curating a space to align with your client's vision. That's where Spoonflower comes in. With the ability to digitally print thousands of colors onto a variety to fabrics, wallpaper, and luxe gift wrap, there's nothing you can't create or personalize to fit your client's every request.
---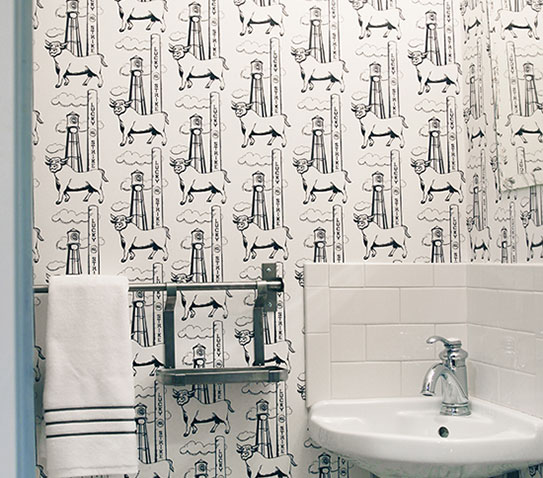 Durham Pride design by bliss_24
On-trend designs for your client
Spoonflower offers the world's largest marketplace of independent designers, featuring hundreds of thousands of designs, with more added everyday. Choose from thousands of on-trend designs, from arrows to elephants, cats to chevrons, and everything in between. Shop our Marketplace to find exactly what you're looking for.
Custom fabric and wallpaper design made easy
Create an account and upload your own artwork on Spoonflower to explore your own designs on fabric, wallpaper, or gift wrap. Our line up provides the perfect fabrics for pillows, curtains, napkins, placemats, runners, and tea towels. Our upholstery grade fabrics create new possibilities for unique custom furniture. Plus, with our Everyday Designer Discount, you get 10% off when you order your own designs.
If the design, scale, or color your client is looking for doesn't exist, you may connect with Spoonflower designers for even greater customization. For interior designers, Spoonflower isn't just a tool, it's a way of reimagining the possibilities of your surroundings.
Sewing not your thing?
Roostery, Spoonflower's new customizable home goods brand, lets you select from all of the independent designs in Spoonflower's robust design Marketplace to be custom-made into an array of gifts and home décor products. From pillows and napkins, to placemats and chairs, Roostery makes it possible to design a unique and original home–no sewing required.
Shop Roostery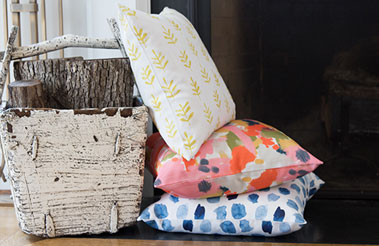 Designs by jillbyers, fable_design, dinaramay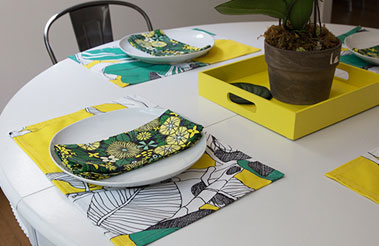 Designs by robyriker, wolfie_and_the_sneak
Make Spoonflower Work For You
No minimum order
Order single test swatches (starting at just $5) or hundreds of yards at a time. No space to warehouse your fabric? No minimum order requirement means you can order what you need, when you need it, and we'll take care of the rest.
Mix and match designs and colors
Order as many designs in a single order as you need–whether it's one hundred yards of different designs or one hundred yards of the same design.
Wholesale Pricing - no special discount needed
Bulk discounts reduce prices for custom fabric to as little as $12.60/yard
10% off orders of 20+ yards of fabric
15% off orders of 50+ yards of fabric
20% off orders of 100+ yards of fabric
Quick turnaround
Most orders ship within 2 weeks, or within 5 business days with Spoonflower PRO (PRO members get free shipping, too). Rush production and shipping is available for last-minute, tight-deadline orders.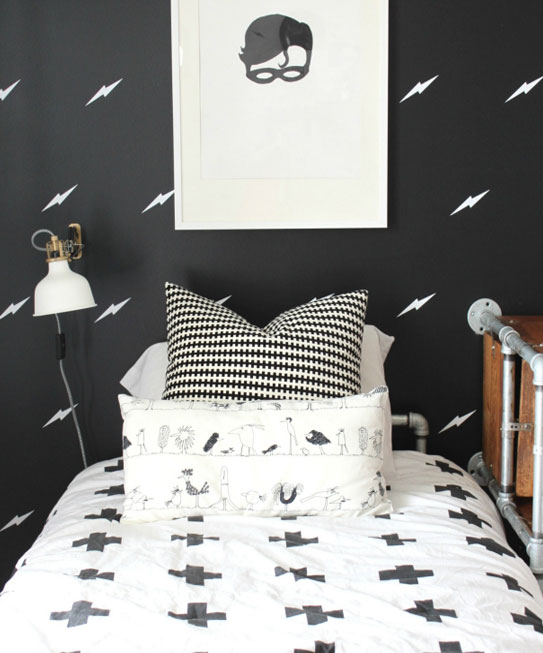 Comforter design by stoneamazon. Photo by Colors + Craft
Digitally Printed in the United States and Germany
Share your commitment to ethical and eco-friendly sourcing with your customers. Unlike conventional textile manufacturing, digital printing produces minimal fabric, ink, water and electricity waste.
High quality standards
Every Spoonflower order passes a rigorous quality assurance process. Not happy? Just let us know, and we'll make it right.
Ordering more?
Contact us! we'd love to talk with you to learn more about your business.